QianCheng-Nose-Guard-Face-Shield-Protective-Face-Mask-L5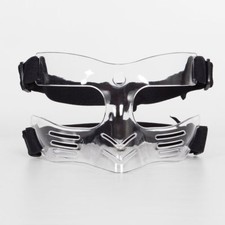 $76.98 Each / FREE SHIPPING included!
Provides effective protection for the nose. Made of high-impact material.
Does not obstruct vision. Easily adjustable, however not a universal size. Please follow the measurements information before purchasing the product.
Prevents from injuries and re-injuries. Minimizes any additional discomfort from impact.
The product is designed for adults. We do not recommend buying the product for children and teenagers.
Average human cheekbone width range: 12cm. - 14.5cm.
If you have a higher nasal bridge inclination than the average, you can try our L5 - High Nose Bridge.
Suitable for basketball - Soccer - Softball - Baseball - Lacrosse or football.
Sporting Goods Team Sports Baseball & Softball Clothing, Shoes & Accessories of Baseball Softball Caps plus other sport goods.